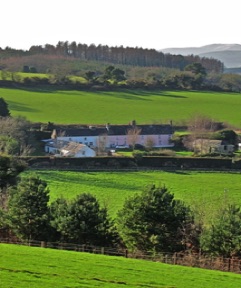 OpeningTimes: 2-6pm
Book your Guided Tour Twice daily: 2pm & 4pm
HeritageWeek2016
20-28 AUGUST
Set in a historic landscape of undulating contours, moods and hues, Ballymurrin Quaker Farmstead opens its doors to welcome visitors on selected days throughout the year.
Uncover the stories of this farmstead; those who lived, died, were imprisoned & emigrated. Visit the house, its meeting room, the forge. Learn of the difficulties experienced in Wicklow by Quakers, whose daring, enlightened new beliefs recognised neither priest nor tithes.
Come to visit, to learn more. Advance notice required.
Visitors are asked to supervise their children, for the comfort of guests,
for safety and to protect the historic features of the property.
Advance Booking Required
March: 16-28
April: 1-3
May: 2-21
28-31
August: 7-31
Outside the dates listed above, we will do our best to accommodate viewings. Please contact us to let us know your requirements.

Ballymurrin House, Ballymurrin Lower, Kilbride, Wicklow,
Co Wicklow, A67 PX56, Ireland

NOTE 24.08.16
Due to hospital admission, we cannot presently open. We hope to be open as soon as we can. Please phone 086 8593264 if you require further information. We apologise for any inconvenience caused and thank you for your understanding.